ParkingCloud: Smart Parking Availability and Guidance Solutions

Gain visibility into what's happening now.
Make parking better with easy and cost-effective smart parking availability and guidance solutions.
ATS ParkingCloud integrates all your devices, data and output in one place, so you always have access to all your important data and information.
ParkingCloud integrates with the systems you're already using, regardless of your current environment. Keep your existing technology and seamlessly add new technology and devices as your requirements change, without being locked into one vendor's platform.
We're making parking better.
Request more information:

COUNTING
Uses laser technology for counting accuracy of over 99%

GUIDANCE
Direct parkers to open spaces via message signs, apps or your website

DATA
Access real-time and historical data, dashboards and reports

API
Seamlessly integrate with all your parking systems and third-party data
ParkingCloud is:
Device-agnostic: Connect any device from any manufacturer
Single data platform: Access data from any source in one system
Connected: Integrate devices, data, reporting and instructions on one centralized view
Simplified: Easy to use and accessible from one dashboard
Counting
Always know your inventory and availability in real time, using cost-effective sensors, real-time data collection and customized vehicle guidance systems.
Automatically count vehicles entering and exiting your lots, garages and parking spaces
Provide zone or lot counts for guidance, planning or individual vehicle tracking
Leverage your existing technology, our technology or any combination that meets your requirements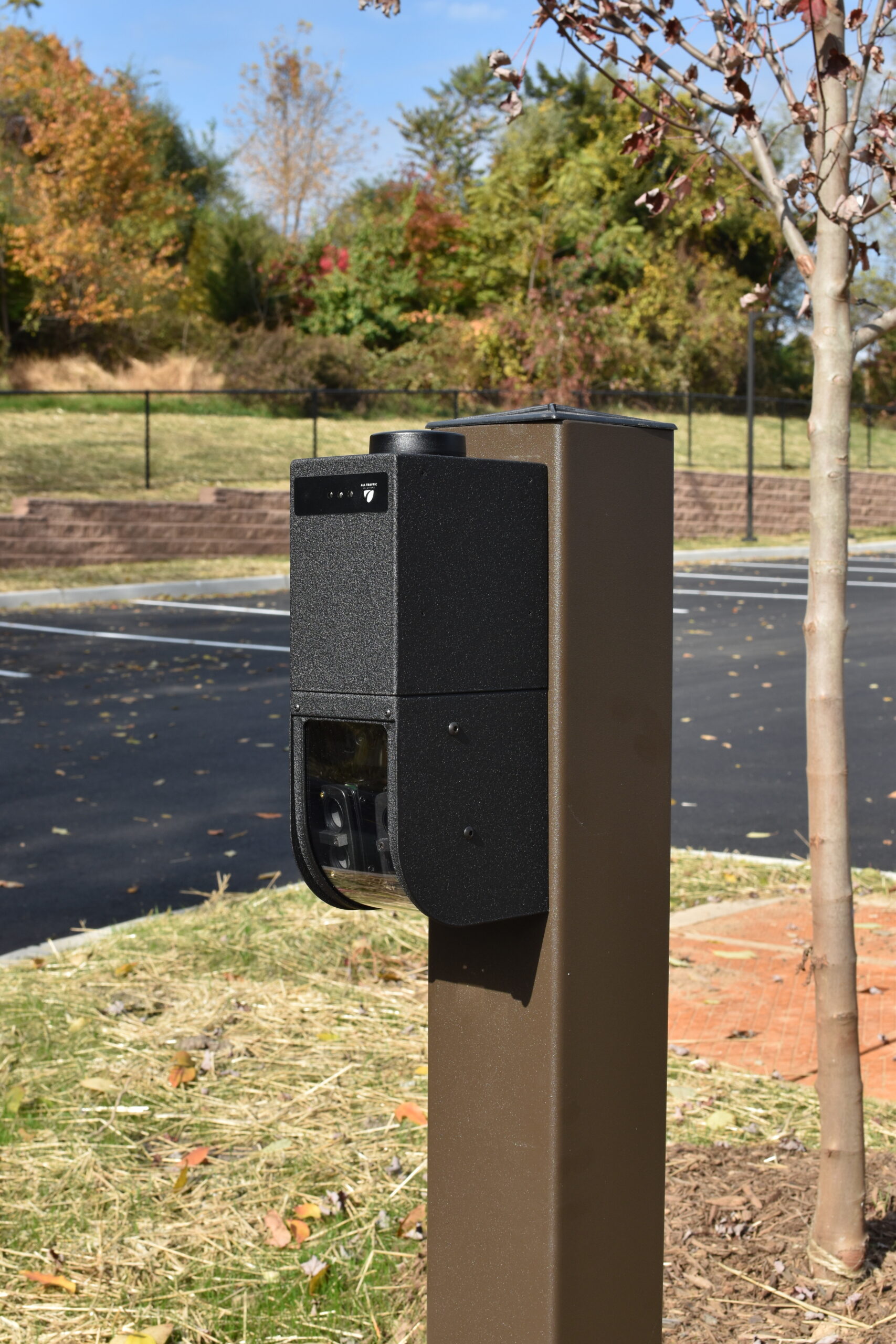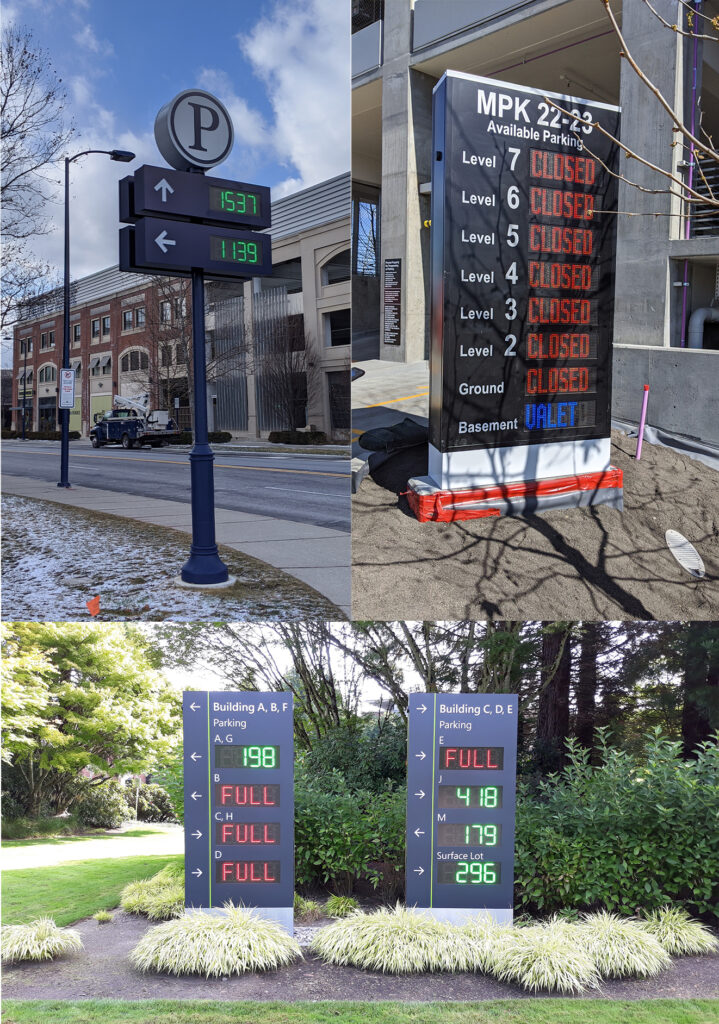 Guidance
Direct parkers to spaces faster and more efficiently. Communicate parking availability to drivers based on live data for maximum optimization. Integrate real-time data to guide parkers using:
Variable message signs and indicators
LED bollards
Full-matrix color signs
Outdoor monitors
Zone and multi-level availability signage
Portable signage
ParkingCloud Mobile app
In-app and website via your facility's app, third-party parking reservations and payment services, or your website
Data and Analytics
Take back control of your data! Feed your parking guidance system with real-time occupancy data on your entire parking inventory. Have real-time data and out-of-the-box reporting at your fingertips from any connected device.
Understand what your inventory looks like at any moment—every component, every location, every premium space
Ingests any kind of sensor or third-party data
Create custom widgets and display color-coded parking occupancy in a map view bar graph or gauge
Set automated SMS/email alerts when capacity levels are reached
Gain real visibility into how your parking organization is functioning and see the latest trends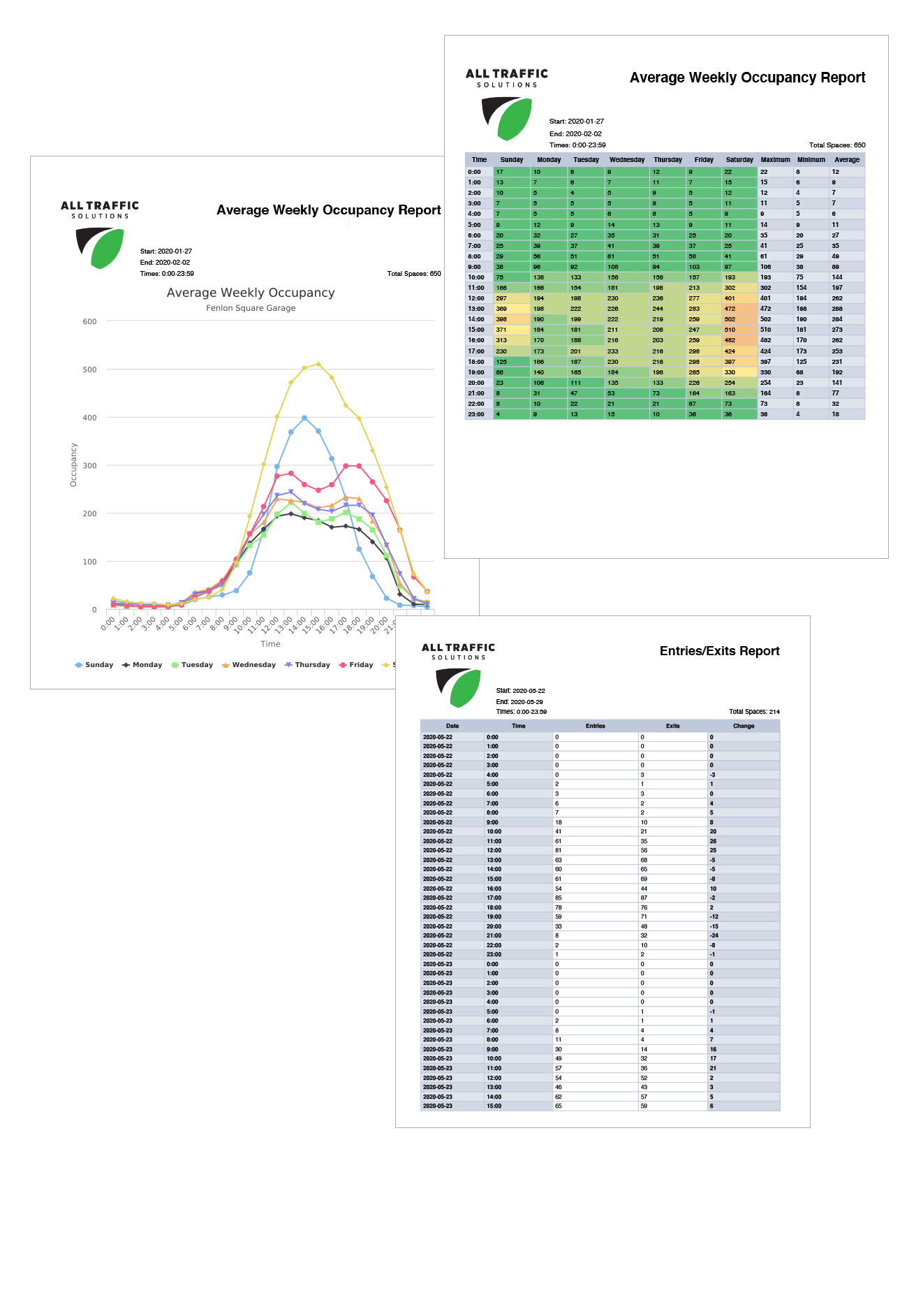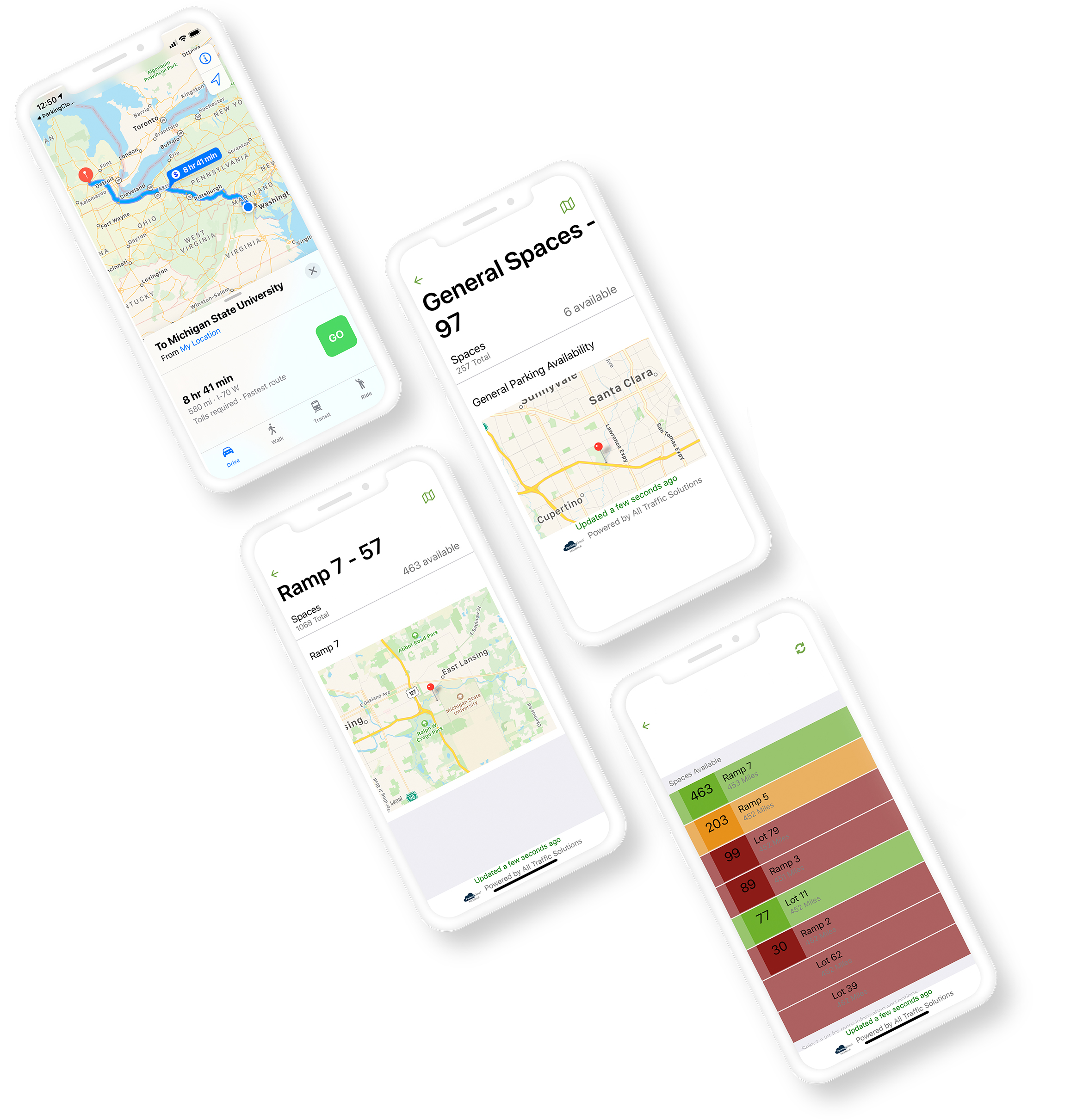 ParkingCloud API
The ParkingCloud API helps you connect your parking data to other systems in real time.  Create the parking availability ecosystem that meets your requirements so you can:
Manage traffic in real time
Understand parking pricing and availability in your area in real time
Know which employees are in your facility at any given moment
Tie parking data in with your permitting solution
ParkingCloud's open API gives you the flexibility to build the system you need based on real-time information and data.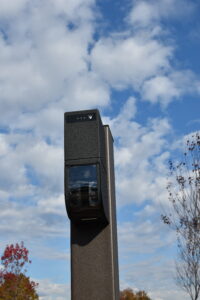 Provides vehicle counts with greater than 99% precision accuracy
Installs easily in less than one day and easy to configure
Mounts on ceiling, wall or post so there's no cutting into infrastructure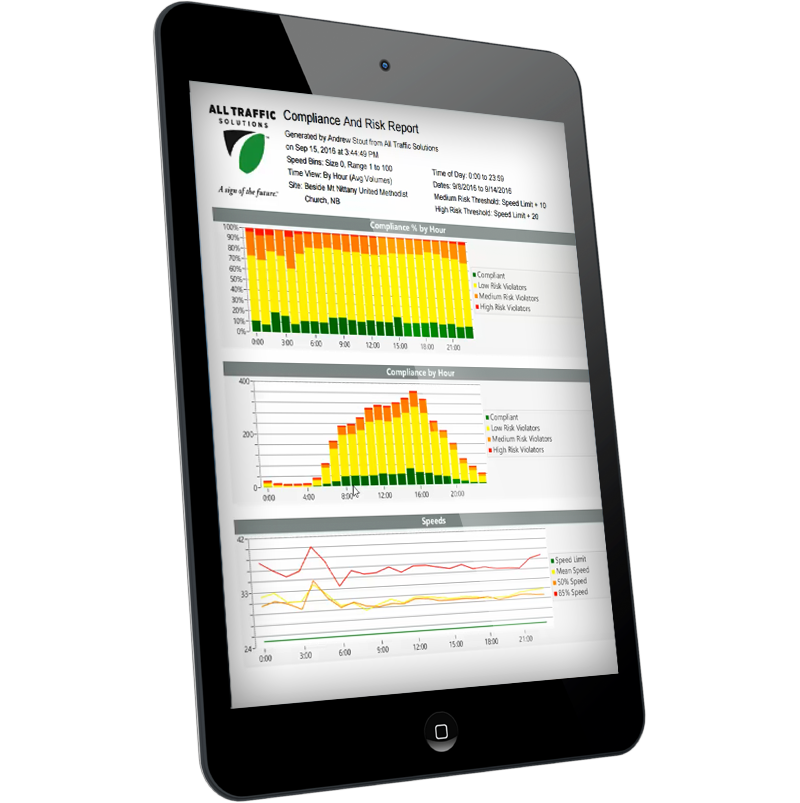 Data and Analytics
Holistic view of your parking inventory across multiple facilities
Understand availability as well as historical usage
Respond immediately to spikes in parking demand
Generate and share reports with management in seconds
Proactive planning and decision making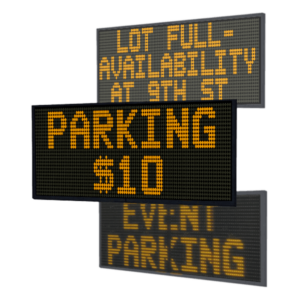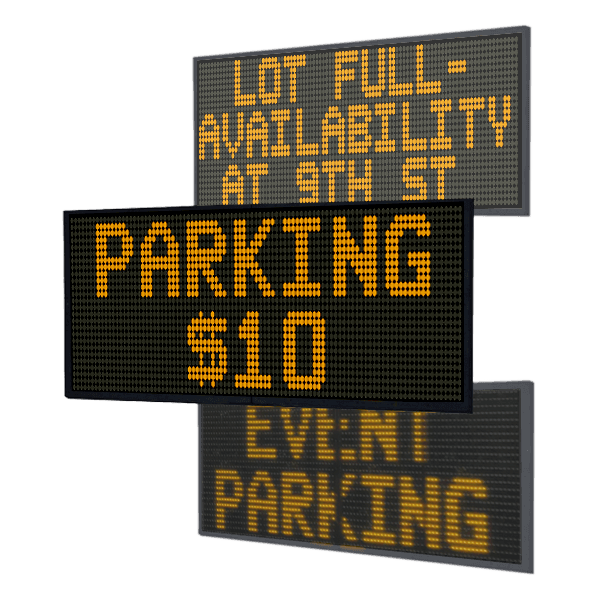 Manage signs from any Internet-connected device—change messages on one sign or all signs at once
Sensor-driven conditional messaging ("Icy Ramps Ahead"), or programmed messages ("Prepay Here")
Integrate with mass notification system to alert parkers of important updates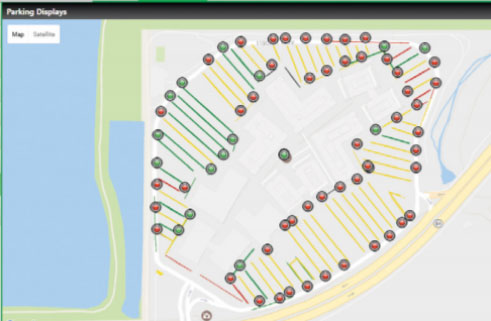 Mapping Software Available in ParkingCloud
Displays availability at row, section and level to guide parkers
View availability at multiple facilities at once, including premium parking spaces, for holistic view of entire inventory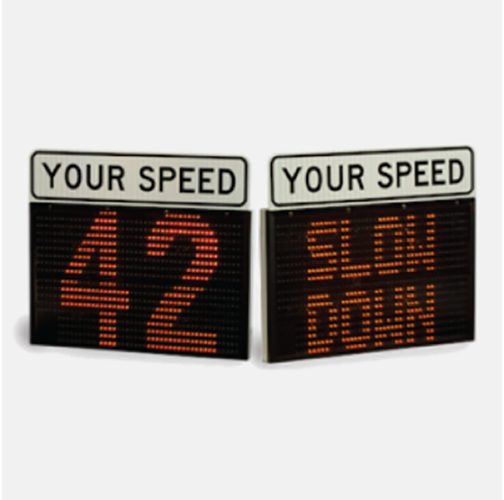 Alert drivers of their speed as they pass
Display messages specific to speed ("SLOW DOWN"), or dedicated messages ("HAVE A NICE DAY")
Portable, web-enabled signs can be deployed wherever they're needed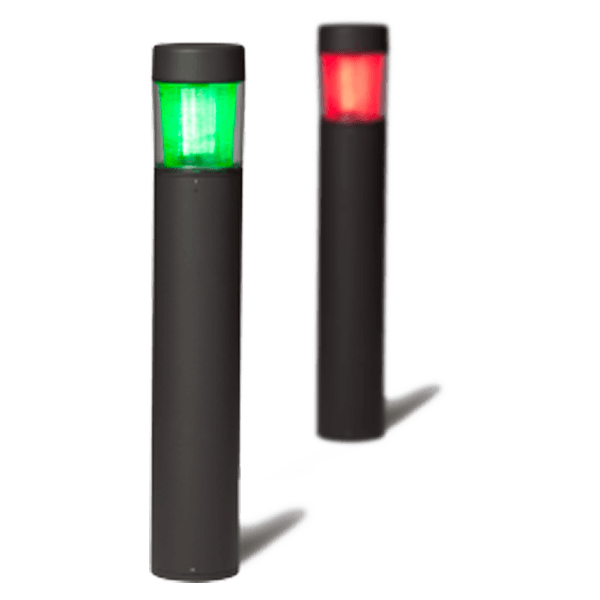 LED indicator bollards that display parking availability with a simple red or green light indicator, placed at the end of each row of the parking facility.
Reduce circling for parking throughout your facility
Avoid traffic spilling over from garage into the street