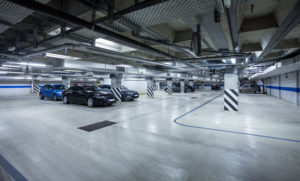 In our last post, we discussed the limitations of old-school solutions. Now let's look at how to assess the best smart parking solution for you.
Solutions: Best vs. Best Fit
There's a lot of debate in the parking industry about the best parking technology, and it sometimes leaves the industry at odds. Organizations are tired of trying to manage more and more complex parking availability and guidance systems, and complexity does not always equal the best fit. They want a solution that solves their problems.
You hear a lot about the Internet of Things (IoT), real-time data, predictive analytics—but the technology you choose has to be something you can actually use. If you're the parking administrator at a company or university, you want it to be simple. You want to be able to grab the data simply and leverage the data in a meaningful way. If you're a parker, you also need technology to be simple, not something that completely twists your brain when you're trying to park your car.
Parking has become a bigger and bigger problem for everyone. It takes a lot of time and energy for people to circle trying to find parking, and it takes lots of money and resources for organizations to manage those environments, only to find out the solution they were offered and implemented hasn't solved the problems. If you have legacy investments already in place on your campus today, you want to figure out a way to integrate them into the new parking technology that's coming down the line and some of the platforms that are available.
Organizations should focus on parking availability certainty, not probability. Look at accuracy versus estimates, and know your parking availability down to the last car. Take the information that you may have captured in an Excel spreadsheet and start to do some comparisons to see how close you were to what the real numbers are. Look at parking data for more exact data sets to inform infrastructure development.
True Data in the Cloud
Whether you are looking to make a profit or planning for growth, you need true data in order to develop a roadmap of how to get there. At All Traffic Solutions, we believe that the best path to true data is a cloud-based system. You don't want servers, manual updates or manual field service—you want a system that delivers true data quickly and remotely and gives you the ability to tie in other systems for greater benefits. If you have ALPR and a permitting system but you want to install a counting system, you should be able to tie them in and have them all on your cloud-based platform.
What Data and Technology Can Do for You
What do you want your data and technology to do for you? Do you want to monitor and manage your pay-to-park spots so you can set rates and pricing? Do you want to simply capture the number of people who park on your campus? Do too many employees park in the visitor lot or in handicapped or expectant mother spaces? Not only can you manage it all with the proper mix of sensors and wayfinding, you can actually help develop policies that have a positive impact on your organization.

How to Assess Your Parking Needs
Here are some questions to ask when figuring out the right parking availability and guidance system for you.
What does the physical infrastructure look like?
Do you have a mix, or is it all garages or surface lots? Do you have defined entries or open access? Do you have designated entrances and exits, or is there an enter/exit opportunity with a single lane of road? Do you use lane delineators? Do you separate things off using a delineator system?
Do you have design restrictions? This is a big one. You may want high-tech equipment and sensors and the latest signage, only to discover there are design restrictions. Do your homework and find out before you make selections.
Do you need to count both spaces and zones?
If you have huge corporate parking garages where you enter on one side, exit at the other and park somewhere in between, do you want to track which zones are experiencing the most traffic, or do you want to know where most people choose to park? Do you want counts at the zone level, by individual space, or do you need to count them both?
There are many good systems available that will not only help you count spaces but will also provide information on which spaces are open and which are closed.
What are your signage requirements?
There are many excellent options available in terms of signage. Do you need standard count availability signage, or do you need a monument board that tells you the availability on each level? Do you need signage that not only provides parking counts but corporate messaging as well?
Do you need signage at all?
Could you provide availability with a simple red/green bollard system that shows parkers exactly where they can park?
Do you have existing counting equipment?
Do you already have something in place that counts people coming in and out, but you're just not getting data from it? You should be able to integrate your existing counting system into your platform.
What kind of reports do you need?
When asked, many organizations will respond, "I want all the parking data," but what they don't realize is that ALL the data is like a big fire hose. It's best to think strategically. Determine what you want initially and what matters to you the most today. Then start to build out your data, based on your reporting needs, from that point and you'll develop a healthy number of reports as you move through the process. Collect three to six months of data so you can start to drive your business through forecasting based on accurate data.
Our previous post discussed limitations of old school solutions.
In our next post, read about how ATS can help you achieve "Availability Certainty" using connected parking systems and real-time data.
This post is an excerpt from the ATS white paper How to Achieve "Availability Certainty" Using Connected Parking Systems and Real-Time Data
For more information or to request a quote, contact an ATS solutions expert.