As immersed as we are in traffic statistics each day at ATS, this particular statistic from a 2011 AAA Foundation for Traffic Safety study never ceases to hit home: "The average person hit by a car traveling 25 mph has a 12 percent chance of death. That drops to a 7 percent risk at 20 mph."
Pedestrian survival rates decrease as vehicle speed increases. The chance of a person dying as a result of being struck by a vehicle decreases 5 percent when the speed of the vehicle is just five mph lower. That's one percentage point less for every reduced mile of speed. But if you double the vehicle speed from 20 mph to 40 mph, the chance of death doesn't merely double from 7 percent to 14 percent—it skyrockets to 85 percent according to a National Transportation Safety Board 2017 study.
Pedestrian deaths from speeding increase exponentially as vehicle speed increases. Once cars reach a certain speed (just above 20 mph), they rapidly become more deadly. Think about the speed limits in your community, especially around schools, parks and shopping areas. If speed limits in those areas are set higher than 20 mph, it's probably time to reassess and request a lower speed limit, as well as anywhere else where there is a disproportionate number of speeding vehicles.
Look at these stills from ProPublica's interactive graph:
Traffic Calming Measures
Radar signs are a versatile and effective traffic calming method and an efficient way to gather highly accurate speed data.
To demonstrate the volume and percentage of speeding vehicles on any given road, you'll need to gather accurate speed data. You can run quick, easy speed studies using a radar speed display such as the Shield radar sign or SpeedAlert radar speed display from All Traffic Solutions.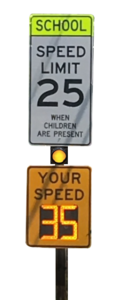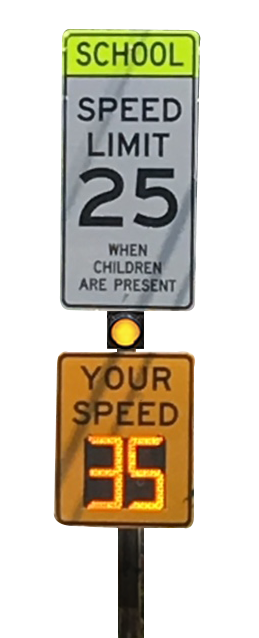 Both the web-enabled Shield and the SpeedAlert capture accurate speed and volume data, and when you the TraffiCloud traffic management system this data is automatically uploaded so you can run pre-designed reports and charts for traffic studies. Either device can also gather data in "stealth mode" so the sign appears to be turned off and drivers won't slow down as they pass. This provides true data of drivers who aren't on their "best behavior" because of the sign.
Radar speed displays are perfect for handling speed complaints—deploy one in lieu of a police officer and you save money and enable law enforcement to stay in the field. Then simply select your date and time range in TraffiCloud and produce a report to present to the citizen that shows the real story on speeding down their street.
If your goal is to increase traffic safety in your neighborhood, radar speed signs are effective traffic calming devices. All Traffic Solutions customers are seeing reductions in speed of as much as 23% and more after installing a radar speed display—making them one of the fastest, easiest and most effective traffic calming measures.
If you'd like more information on any of our cloud-based traffic calming solutions, contact us to speak with a solutions specialist, or you can request a quote now on any of our portable traffic devices.
To test out ProPublica's interactive speed chart click here.