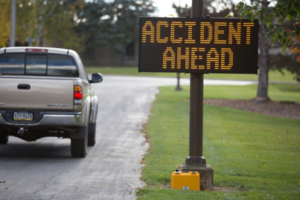 As budgets tighten and needs expand, more and more communities are feeling the pressure of managing more traffic with fewer resources. Safety, congestion, special events and unforeseen circumstances—all of these coalesce into more needs, expanded requirements and a broader range of challenges to resolve. What are some strategic ways that a municipality or agency can address these needs while at the same time optimize resources? How can technology allow you to increase your service offerings while at the same time reduce your expenses?
We recently sat down with Heidi Traverso, All Traffic Solutions' in-house traffic solutions expert for municipalities and law enforcement, to discuss easy ways that any agency can leverage technology—specifically the Internet of Things and the Cloud—to increase services, reduce costs and make roads safer.  In this two-part series, Heidi will provide examples of how technology can make traffic management simpler, easier and more efficient. She will also explain how public works departments, traffic divisions, and law enforcement agencies can work together to manage traffic throughout their communities.
In this first post, we talk about how to define the issues, and how conditional roadside messaging can help in many situations.
Heidi, you work with municipalities of all sizes, helping them solve issues related to traffic.  Say someone calls you and says, "I'm from XYZ Township Department of Public Works. My community is growing, my resources are shrinking. Can you show me how I can use technology and automation to increase safety on my roads and reduce the number of resources required to direct and manage traffic?
Heidi: Public works departments often recognize that they have safety or traffic congestions issues, but they don't know how best to address them. A smart way to begin is by coordinating across functions with key stakeholders in Law Enforcement, Engineering, Road Maintenance, Parking Operations and others to learn what other departments have done to define the issues, what they have tried in order to address the problems, and how well it worked.  This is the perfect time to see how technology could be added to existing solutions to increase effectiveness and reduce costs.  If agencies haven't had the success they're looking for, it could be time for a whole new approach that leverages their existing technology and also layers in new ones, including the IoT (Internet of Things) and the Cloud.
As Head of Public Works, I may not know what I'm looking for yet because I don't understand what technology can do to help me. For example, I've heard the term "conditional messaging". What is it, and how can it help my community?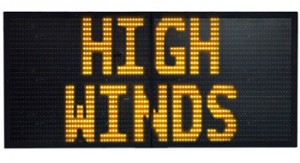 Heidi: Sensor messaging is a key component of any successful traffic management program. Conditional messaging leverages different types of sensor inputs like speed, traffic conditions, weather or other special conditions like events, to output dynamic messaging on variable message signs, apps, texts or websites so that drivers can take immediate action.  For example, messaging can be output to variable message displays placed on roadways as drivers approach an area to let them know about adverse road or weather conditions.
How is technology going to help me to be more efficient if my crew has to drive around and manually change the sign messages?
Good point. You're already trying to maintain infrastructure on a budget that doesn't cover everything. If you want to save on personnel costs, you need to have automated conditional messaging that's connected to the Cloud in real time.  It may sound counter-intuitive, but technology can save you money because there are intelligent sensors that can communicate even more effectively than a person to relay accurate temperature and other conditions.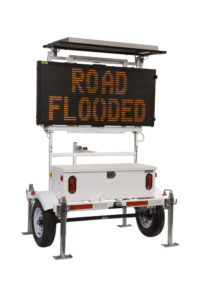 For example, you can link temperature sensors to your traffic signs, so that when road temperatures drop below a certain threshold, the sensors "tell" the sign to display a conditional message, to alert drivers that roads are icy. You can also set up a communication between flooding sensors or congested roads that will automatically, based on rules that you set up, change the message on your variable message signs under these specific conditions. All this can be accomplished in real time, as conditions change. That's very important because the information you provide has to be up-to-the-minute or else it could be too late, or drivers may not trust what the sign is telling them because they are accustomed to receiving delayed information.
Another good way to use conditional messaging to save time and increase road safety is when there are flood conditions present.  A sensor not only tells you that water is present in a particular area, it tells you what the water level is. Regular alerts can also tell you whether that water is rising or falling, and if you're getting real-time photos of that location, you can monitor the water level without being there.  Feedback from the sensors is sent immediately to the message signs to advise the driving public to avoid this hazard situation. Far better for drivers to see a sign that says "FLOODING AHEAD, TURN AROUND," than to drive further where there could be immediate peril.

How does real-time information help to increase safety exactly?
You increase safety because drivers have the information they need to drive safer
You reduce traffic congestion because drivers can be proactive such as by taking the less congested route
You eliminate the need to assign resources to drive around to change messages, which means sign information is current, your resources can be deployed elsewhere
You save money on fuel, vehicle use and resource hours
You don't have to dispatch a crew to travel to each sign to change messages—they can manage each sign from the traffic management system or using TraffiCloud; however you want to manage the updating of your signs, either automatically or after someone verifies the conditions. Regardless of where you are located, your community probably experiences some kind of unexpected environmental incidents. Having that real-time connection allows you to remotely manage your messages to drivers as incidents occur. You may have flooding roads in summers, you may have wildfires, but by leveraging some pretty simple sensors that are connected in real time to dynamic message boards, you can make roads safer, offer more services AND reduce the costs to provide them.
In our next post, Heidi shares how to use cloud technology and the IoT to manage traffic flow and plan for the future.

SUGGESTED READING
Data-Driven Traffic Management Solutions for Safer Roads
Learn about InstAlert variable message signs.