Radar message boards have been used more frequently by Law Enforcement, city managers, and more over the last few years. The versatility of being able to display messages and radar feedback makes the signs more effective.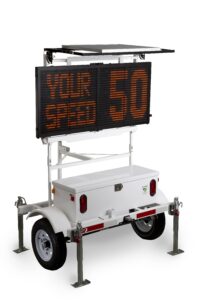 Many small police departments share equipment with the town or public works department and this can be an advantage because it often provides law enforcement with access to equipment they might not buy for themselves—equipment like message signs.
More commonly, an employee from public works inquires about a message board because they have a specific need—for example, crowd control during a 5k race. It's only later that they find out the message board is effective for speed enforcement too.
The real effectiveness comes with combining a radar speed limit sign and a message board, which is a radar message board. All Traffic Solutions has two speed message displays—an 18" sign that is pole mounted and a 24" sign that is on a trailer. The 18" can do 6 characters on two lines, which gives law enforcement the opportunity to display messages like "slow down," "too fast," "road closed," "ACCT Ahead," or even an amber alert.
A current trend in speed messaging is incorporating it into the statewide campaign for the month. For example, Massachusetts had an anti-texting campaign where it had signs monitoring the speeds of cars—if the cars were driving above the speed limit, the message would be to slow down. However, if the driver was below the speed limit, the message said "You text, you drive, you pay" assuming they were driving slow because they were playing with their phone.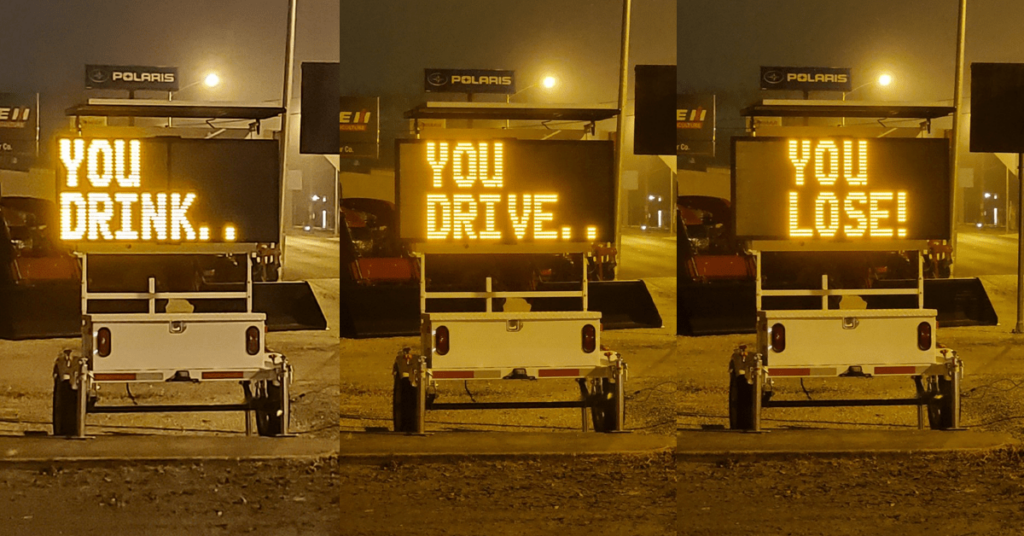 Another example is the Hiram Police Department, who use their SpeedAlert to remind drivers to "Be Safe."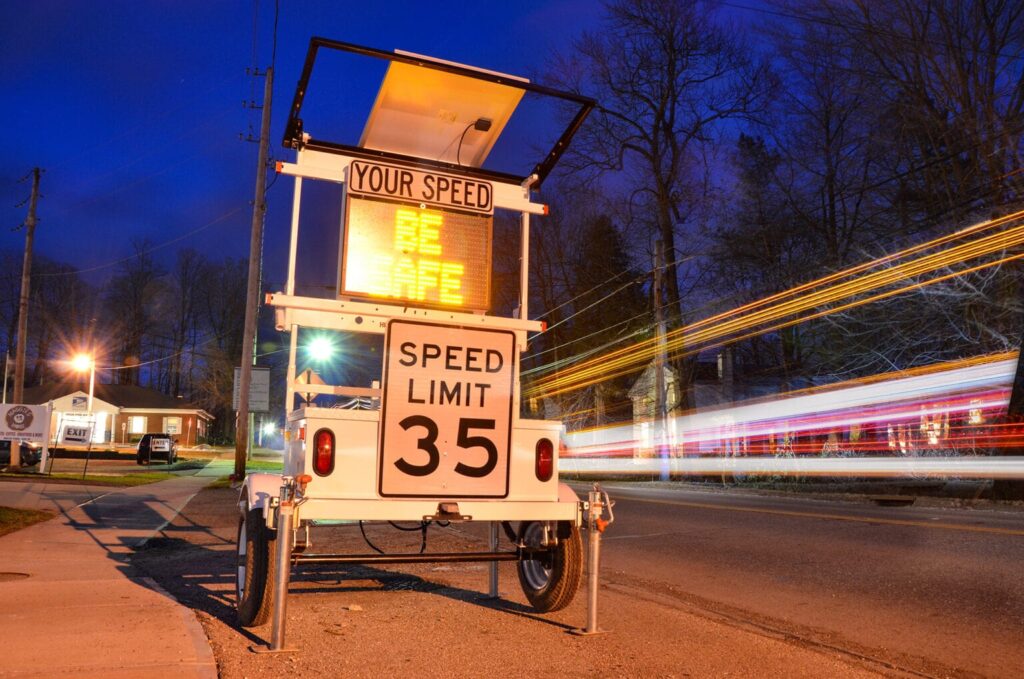 For one more example, you can take a look at Orange Beach Police Department wishing drivers to enjoy the beach as they begin driving on a bridge.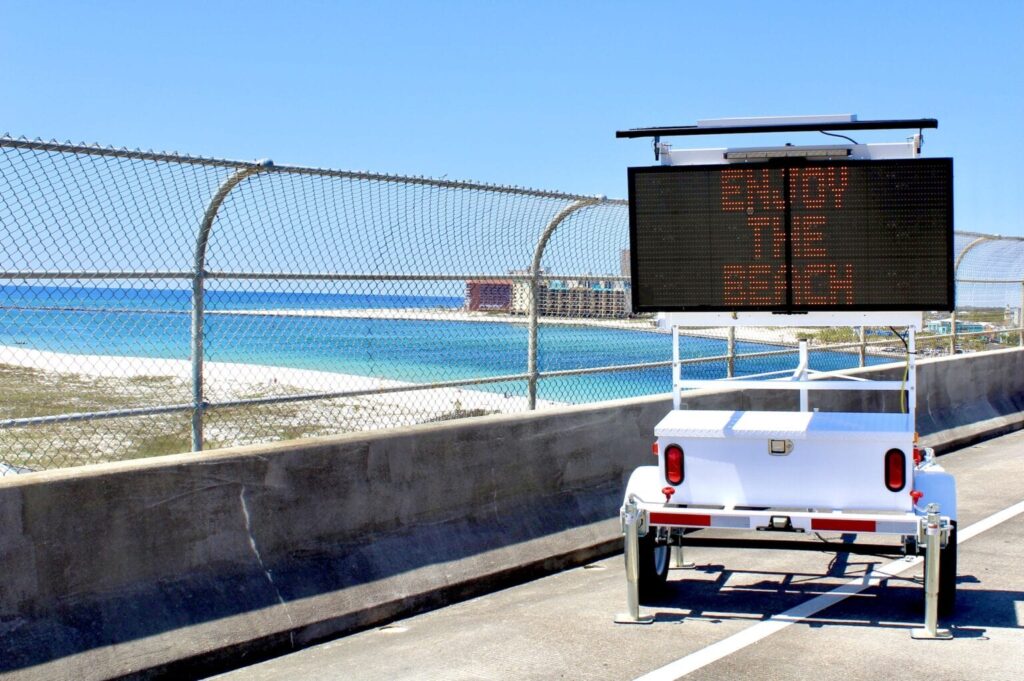 Gardner Police Department in Kansas has their SpeedAlert 24 trailer out in front of Gardner Edgerton High School to help encourage safe driving.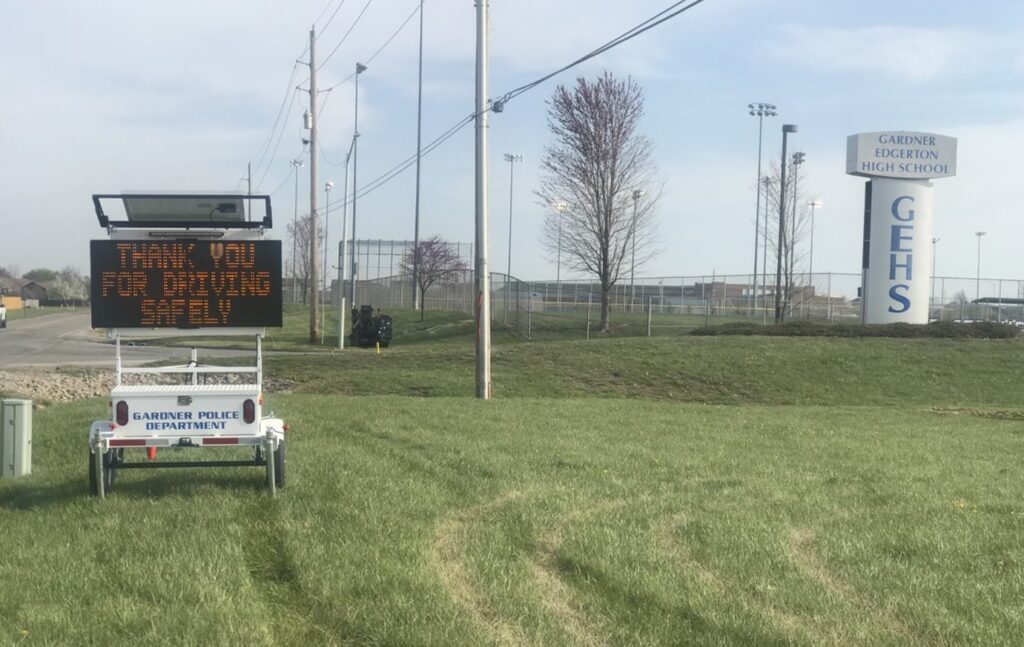 Tell City Police Department displaying a clever custom message to drivers on their SpeedAlert 24.
Incorporating strobe lights into the message board signs also adds to the effectiveness. We've seen the impact of these flashing speed limit signs again and again, but only if utilized properly. For instance, the strobe lights should be set to flash only when a driver is exceeding the speed limit by about 10 mph because if drivers speed by it and see it flash every time, they will quickly become accustomed to it.
Inevitably, however, the sign will need to be moved to a new area and the old area will be at risk of becoming dangerous again. To prevent that, police departments can use the data the sign collected to persuade city and state engineers to install more permanent solutions on the road, such as lowering the speed limit. That way, the community continues to be safe beyond the time the radar message board is out there slowing traffic.
What kind of impact have you had with radar speed limit sign messaging? We'd love to hear from you!