Data, data, data. It's everywhere. On devices, in files, on spreadsheets and worst of all, captured in manual tracking logs.  But there's an easier way to analyze your data and create the reports that help your traffic studies solve your thorniest problems.  Thanks to sensor-driven cloud-based systems,  data collection and analysis have become even easier, according to Ted Graef, All Traffic Solutions' founder and Chief Operating Officer.
"Traffic engineers are accustomed to spending days tracking down data buried in Excel documents saved on someone's computer," he said. "With cloud-based data collection,  all anyone has to do is go online and all their information—from maps to traffic data—is right there in one central location. For example, StatTrak data is uploaded automatically directly from the unit, so when a user clicks on a specific location they have immediate access to the data and can easily run reports."
Data is also easily shared across departments or with partner agencies such as law enforcement.  Additionally, Graef said, All Traffic Solutions has integrated mobile phone alerts so that traffic engineers are notified if one of their devices is broken, stolen or is low on batteries, and other new features are added periodically.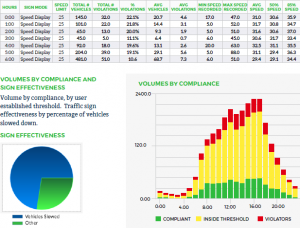 " In the near future, checking and analyzing traffic data will be as easy as checking your email," he added.

Cloud-based traffic management solutions have the added benefit of helping to make a city's traffic smarter, by providing a system to coordinate all of its signs, sensors and devices, allowing traffic engineers to host all the data in one place and be able to access it anywhere so traffic decisions can be made based on the real-time data.
Additionally, attaching Excel documents and tracking changes can be a thing of the past. With cloud-based systems, the entire team can all be on the same page. Every logbook can be web enabled so anyone can access the most current version, and base strategy on the most recent traffic reports. All the devices can be integrated regardless of what manufacturer made it, providing a "traffic ecosystem" of speed sensors that work with counters and message signs so drivers are aware of current roadway conditions.
A department could build this system itself with a team of IT professionals, but it would take valuable resources away from the department's main mission. Hosted or "cloud-based' systems allow busy traffic departments to focus on the end product, not on the technology to make it happen.  A hosted system not only solves that problem but also requires less of an investment because of the developer, not the department, is responsible for rolling out new versions of the software and updating hardware.
Using Web-based count and classify devices that mount on poles or medians instead of busy roads, provide safety for installers, and fast access to data from any Internet-ready device. You can utilize accurate, plentiful data for more informed decision-making and smoother, more expedient traffic studies.
Learn how the Missouri Department of Transportation was able to increase the safety and efficiency of their traffic studies here.  
All Traffic Solutions delivers cloud-based traffic management solutions including radar speed and variable message displays, imaging products, and intelligent transportation systems for law enforcement, municipalities and smart cities. Our innovative TraffiCloudTM transportation management platform is changing the way smarter cities solve their most complex safety, transportation, and parking challenges by allowing them to manage all their traffic equipment remotely, as well as leverage data to increase traffic safety, streamline their operations and achieve lasting results.