SpeedLane Pro Multilane Vehicle Counter Classifier
Counts, classifies and measures speeds in bidirectional traffic in up to 16 user-defined lanes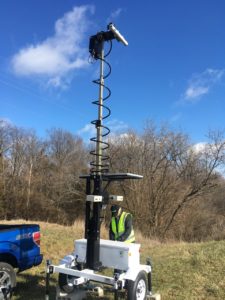 The SpeedLane Pro vehicle counter classifier is a portable, highly-integrated traffic measurement radar and data collection device that installs roadside in under one hour.
SpeedLane Pro delivers automatic, non-intrusive multilane traffic data collection for traffic engineers, departments of transportation and anyone who requires a serious, highly accurate solution for performing reliable traffic studies.
Simultaneously counts, classifies and measures speeds of all vehicles in bidirectional traffic in up to 16 user-defined lanes.
One-person installation in under one hour without the mess, interruption to traffic flow or dispatching of road crews to deploy, take down and reinstall at each location.
Dual-beam, low power side-fire radar technology provides accurate measurements without the need for in situ calibration.
Accurately detects lane, speed and
length-based class of
individual vehicles
and computes:
          •    Per-lane volume
          •     Occupancy
          •     Gap measurements
          •     Average speed
          •     85th percentile speed
          •     Headway parameters
Measures traffic on a per-vehicle, per-lane basis, available in real time and stored in device memory. The built-in 1.3MP HD video camera for sighting makes setup a snap and allows for convenient remote traffic monitoring.

Optional cloud-based TraffiCloud server lets you download and aggregate data from multiple devices from your Internet-connected device and browser for real-time and historical reporting. Run any of TraffiCloud's built-in reports and download in seconds.
Powerful SQL-based query interface for historical data
Extremely low-power usage (0.85W) requires ten times less power than competing products
FCC and CE listed for full 250MHz operation to suit a variety of application requirements
Optional built-in UPS with rechargeable battery keeps the unit running for over 24 hours in the event of external power loss
Optional MPPT solar charger for optimal winter and cloudy-day charging