TraffiCloud™ is All Traffic Solutions' secure, web-based ecosystem for managing every component of a traffic safety program. Customers can now easily connect and remotely manage all their traffic safety equipment and data all in one place.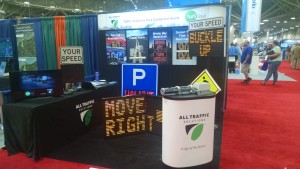 State College, PA Sept. 8, 2016 All Traffic Solutions will spotlight their TraffiCloud empowered facility safety and security solutions at the ASIS Conference being held at Orange County Convention Center in Orlando, FL from September 12th – 14th. The ASIS expo attracts an audience of 20,000+ decision makers from around the globe and across the public and private sectors, interested in the latest and best security products and services on the market.
TraffiCloud web-based technology brings new capabilities to their entire range of traffic safety products including Sensor-free Time-to-Destination, Speed Calming & Enforcement, Wrong Way Detection, Counter Classifiers, Traffic Studies, Data Collection, Parking Availability Notification, Smart Work Zones and Custom Messaging.
All Traffic Solutions invites attending security professionals to Booth #1440 to learn more about how our web-based technology and solutions can help with the fundamentals of prevention and preparedness planning in and around corporate facilities, university, airport, healthcare, sports & entertainment venues, military campuses and Smart Cities projects.
Valuable to anyone challenged by complicated technology or wanting to consolidate the way they manage their tools and information, the TraffiCloud provides a new level of awareness while reducing the amount of time needed to manage your equipment and information.
Manage equipment settings remotely from any Internet-connected device
Remotely create, deploy and share messages based on live data
Visualize and map an entire traffic management program and data on an interactive map
Automatically view data on your desktop and eliminate data file management
Simply generate and share detailed reports anywhere at anytime
Receive email or text alerts for low batteries, high speeds, tampering, congestion and more
View images related to alert thresholds, or generate awareness images based on a preset frequency
Increase data accuracy
Provide new analysis and metrics for end-to-end traffic management
About All Traffic Solutions
Located in State College, PA., All Traffic Solutions is consistently recognized as a leading innovator in the traffic safety market for speed displays, message signs, imaging products and intelligent transportation systems, delivering groundbreaking levels of service and product capability. By integrating cloud technology into all of its products, All Traffic Solutions allows customers to manage all their equipment and data remotely, through a browser resulting in better traffic safety outcomes and initiatives related to vehicle-to-infrastructure solutions and smart cities.