DEARBORN, Mich. (WXYZ) – Dearborn Police have a new tool to catch speeders, and it comes just in time for the crowds of kids that will be out on Halloween.
Watch Video Here: http://www.wxyz.com/news/region/wayne-county/new-signs-take-pictures-of-speeders-in-dearborn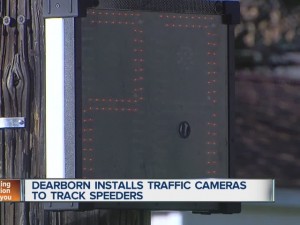 Police bought three new speed monitoring signs thanks to a Traffic Safety Grant  from AAA. They are located on Union, Grindley Park, and at Village and Rotunda.
The signs don't just tell people if they are speeding. They take pictures of anyone over the speed limit. Those pictures are automatically sent to police.
Police say they won't automatically send you a ticket if your picture is taken, but they may keep an eye out to catch you in the act later.
Neighbors say the signs work very well.
"People see the sign right about in front of my house, and we are seeing a lot of brake lights now," said Jennifer Zagon. "So that is good. People are slowing down."​