Last time we discussed when to include a message on a speed radar sign and why incorporating one makes them more effective and versatile. But that's not the only way to increase the effectiveness of your speed displays. One town in Central Pennsylvania swears by its blinking speed display.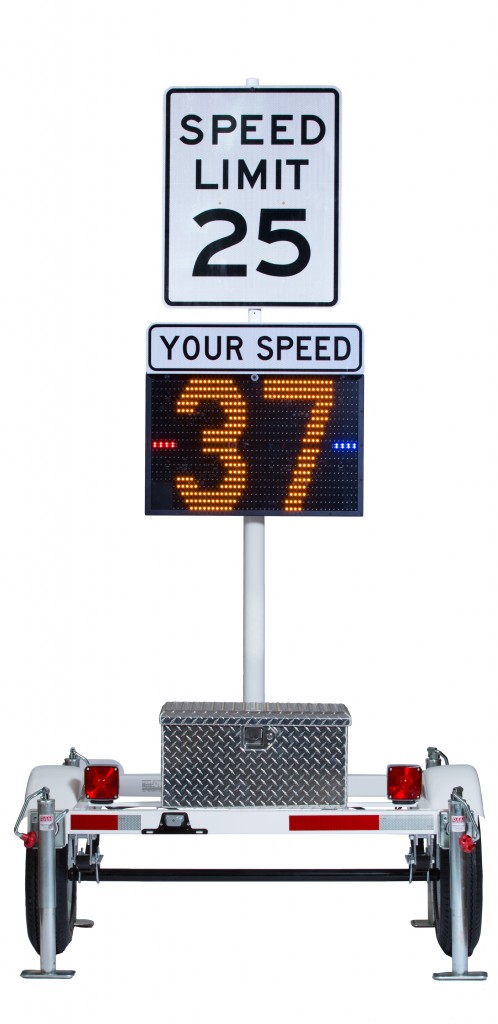 While speed displays with messaging capability can communicate to drivers how fast they're going and that they need to slow down, incorporating red and blue strobe lights can implicitly do the same thing without words.
In 2010, All Traffic Solutions placed a trailer with a blinking speed display on a busy road headed into the town of Lemont in Pennsylvania. The intention was doing a two-week study, but when the sign was removed, residents immediately started calling for it to become a permanent fixture in the community. And it's been there ever since.
"It's one of the best locations you could ever have for a blinking display because it's a long straight road headed into a windy road with a lower speed limit in a heavily populated area," Eric Kline, VP of Engineering at All Traffic Solutions, said.
The sign is also set to display speeds differently depending on how fast a driver is approaching it. The new TraffiCloud firmware allows users to choose between just showing a driver their speed, flashing their speed or flashing their speed with strobing red and blue lights. So if a driver is under the speed limit, the number is solid, if the driver over the speed limit but within a reasonable buffer, it flashes their speed and if the driver is over the speed limit by 10-15mph, the red and blue strobe lights flash.
Having these conditions in place are beneficial for a soccer mom, for example, driving by the sign every day. If the strobe was set to go off right at the speed limit, she would likely see it 10 times before and learn to ignore it. But if the strobe lights are set to go off when she's driving 15mph over the speed limit, that one day when she's in a rush she'll see the strobe lights, know she's doing something wrong and slow down.
"I make the signs and they still get me to slow down if I see those strobe lights," Kline said.
A conditional speed display also has the additional benefit of improving community relations.
"The residents in Lemont feel like their police department is taking care of them because they have that sign there," Kline said.
Have you tried strobing speed displays before? What was your experience? Let us know in the comments!
by Lori Miles at All Traffic Solutions