In several past blog entries, we talked about placing a radar speed sign in an area where people may be speeding to collect the data first. By using a sign, there's no need to take up an officer's time just to collect data—the sign does it all.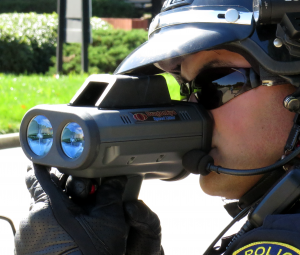 However, once the data is collected and the data shows that there is a problem, placing an officer on the road and equipping him or her with a web-enabled Lidar gun is step two.
Lidar guns are helpful to law enforcement but most officers still record the data by hand. However, with web-enabled Lidar guns, officers can do much more. This type of data collection and management will become a standard requirement for police departments in the near future. Here are three ways a web-enabled Lidar gun can improve your police department.
Easily write reports
Officers using web-enabled Lidar have vehicle speed, distance, direction and the time of each capture recorded instantly and uploaded to the cloud where it's saved and recorded—that means reports are a lot easier to write. Officers can also add notes and images to each capture. Cloud systems also track the effectiveness of enforcement efforts with data such as how many captures were taken, the number of citations written and statistics on the enforcement session.
Add credibility in court
Additionally, officers can access the data needed for court with a click of a mouse. No more scrambling for daily test logs. Cloud systems gives the officer the ability to log daily accuracy tests and save certification documents. This is vital in supporting the accuracy of the instrument and ensuring that fewer citations will be disputed.
Integrate it with other web products
Another benefit to departments is utilizing other cloud-system equipment, such as speed displays, to collect traffic data at an enforcement site.
Lidar is a powerful tool for police departments and combining it with cloud technology turns that tool into something that improves accuracy, credibility in court and effectiveness.
by Marshall Barto at All Traffic Solutions