2020 has been an exceedingly challenging year for communities nationwide. In times of fear and uncertainty, rapidly-changing information needs to be shared clearly and publicly. Throughout the COVID-19 pandemic and all of the obstacles it poses, our customers have used All Traffic Solutions signs as tools to keep the public safe, informed, and connected. 
We applaud our customers for their commitment to the safety of their communities. Here are some great examples of the different ways our customers used All Traffic Solutions signs for COVID-19 response:
Tiverton Police Department (RI) sharing messages encouraging residents to do their part in slowing the spread of the coronavirus. Tiverton PD even held a "message board contest" where they let residents submit ideas for COVID-19 response slogans!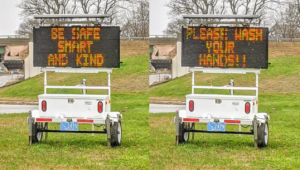 This sign went viral when Norway Police Department (ME) posted it on social media. It received over 10,000 shares, and even grabbed the attention of a local news outlet!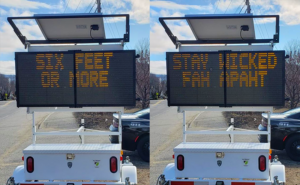 Dunwoody Police Department (GA) used their All Traffic Solutions trailer to participate in the community's "Everything Will Be Okay" campaign. The campaign was created to spread positivity during lockdowns in March.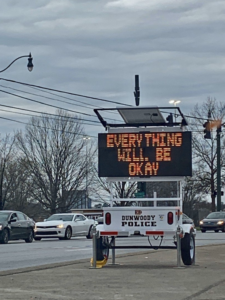 Matthews Police Department (NC) used a SpeedAlert sign to alert drivers of stay-at-home orders.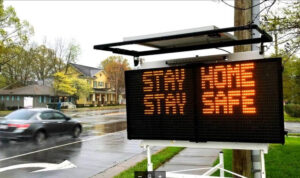 Chilkat Indian Village (AK) deployed their InstAlert on an ATS-5 trailer to communicate that only essential services were in operation.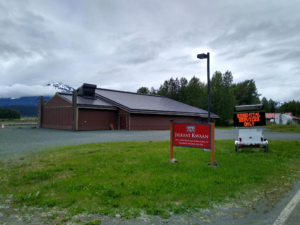 The Boston Mayor's Office of Emergency Preparedness using one of our signs to direct traffic at a first-responders-only COVID-19 testing site.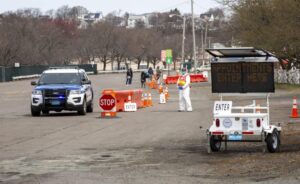 The Metro Washington Airports Authority Police Department (VA) displayed this clever image on their SpeedAlert this spring. As traffic volume decreased due to the pandemic, communities nationwide experienced increased speeding.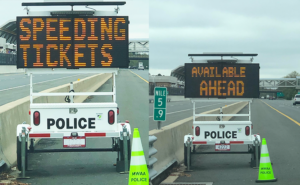 The Cumberland Police Department (RI) shared this message congratulating the graduating class of 2020 at a local high school.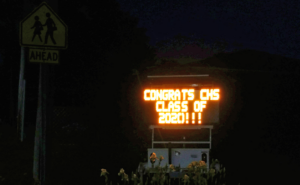 Sandoval County Emergency Management (NM) designed this creative custom message to guide traffic at a COVID-19 testing site.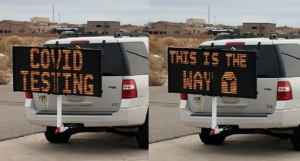 Bureau County Emergency Management Agency (IL) uses their InstAlert 18 to share updated COVID-19 case counts with their community daily.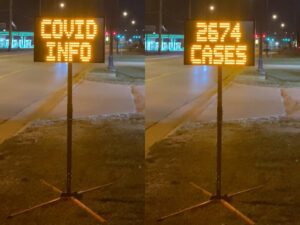 The City of Aspen (CO) reminds community members to follow health guidelines.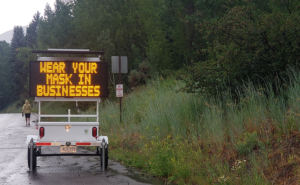 The Town of Westport (CT) deployed ATS trailers at high school, middle school, and parks and recreation public fields to advise the public that athletic fields were closed due to the pandemic.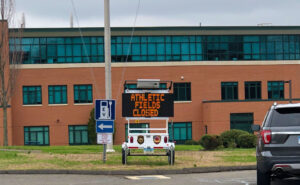 Haleakala National Park (HI) also used an ATS trailer to alert the public about park closures.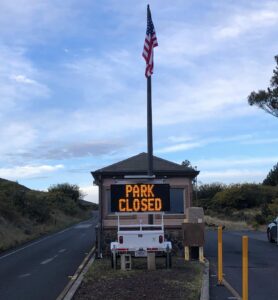 Our customers–many of whom are first responders and frontline workers–continue to impress us with their dedication and perseverance. To everyone who played a part in keeping their community safe this year, thank you!
If you have images or videos of your All Traffic Solutions signs in use, please send them to marketing@alltrafficsolutions.com. We always love seeing the creative ways customers use our signs, and you may even see your image shared in a future blog post or on social media!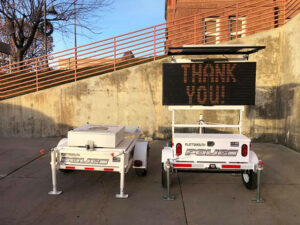 Image: Plattsmouth Police Department