From the whitepaper "Smarter Cities:  5 Ways to See Results in 2017" (Download now)
In our previous posts, we've discussed how properly 'agile'  smarter transportation projects can provide results now while at the same time laying the foundation for long-term smart cities success, and how you can build a culture of Data-Driven Decision Making to Leverage up-to-the-minute data to manage your ever-changing traffic landscape.  
Today we are walking through our second recommendation:   Smart Traffic Congestion Management
As a city grows and thrives, traffic congestion is an inevitable problem that must be addressed on an ongoing basis. Backups can cause road incidents and road rage, and adversely affect commerce, road work efficiency, emissions levels and fuel consumption (which drives gas prices up), event attendance, the ability to attract businesses, and a host of other negative outcomes.
The degree to which cities can proactively address traffic congestion over the long term is key to their ability to support business, serve their citizens, and maintain a higher quality of life. Fortunately, there are intelligent traffic applications—thanks to the Internet of Things (IoT) —that are highly effective for communicating with drivers, and keeping traffic flowing and more evenly distributed.
Virtual drive times
Anyone who's ever contemplated which route to take home, only to find themselves parked on the freeway minutes later has experienced high levels of frustration. If only they had known about that pile up ahead they could have chosen another option; now they can do nothing but wait.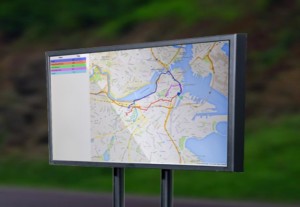 Providing commuters with updated virtual drive times before they hit the road gives them the information they need to steer clear of congested roadways and other high problem areas.
Many municipal, corporate and campus parking garages are now equipped with virtual drive time signage that displays a map of the surrounding area with current travel times to main roads, bridges, and tollways. Signs like these are also popping up in hotel lobbies, airport car rental areas, and public elevators.
The signs are connected to an app that is fed GPS-based data which in turn updates the map. Dynamic recommendations of alternate routes are based on travel time thresholds. There is no need for any fixed speed sensing infrastructure, and the signs can be programmed to display different travel areas.

Time to Destination
Like virtual drive time signs, time to destination messages alerts drivers to up-to-the-minute travel times updated constantly on a connected changeable message board. They can be used to convey information for frequently traveled destinations such as the business district, main highway, airport, etc. so drivers can make more informed travel decisions and experience a higher comfort level while on the road—and traffic gets distributed over a larger perimeter.
Event traffic management
Stadiums, convention centers, festivals and concert venues attract tourists, sports enthusiasts, business professionals and others to visit your city and make it a more desirable place to relocate. These attractions are also prime locations for traffic jams and bottlenecks, as cars pack the freeway and nearby roads to drive there; only to circle and re-circle the area in search of a place to park.  
Your city needs to have a well-executed, integrated approach to managing the onslaught of vehicles on their way in and out of large events, to keep traffic flowing, and both drivers and pedestrians safe from harm. Fortunately, there are devices available that can help you accomplish this.
Portable, variable message signs installed at strategic locations, either on posts or on trailers, can direct drivers to event locations, available parking or back to main thoroughfares. These signs have the advantage of being programmable remotely, so authorized personnel do not have to physically travel to each sign to program them, check the battery or change the message. Some signs have the capability to store, display and rotate more than one or two messages, and when not in use at an event they can be repurposed in other locations.