Parking facilities management is difficult. As urban areas become more populated, the number of vehicles on the road increases and drivers become more aggressive, providing safe, ample parking is a major challenge. We understand. Some of the biggest parking issues we help clients tackle include: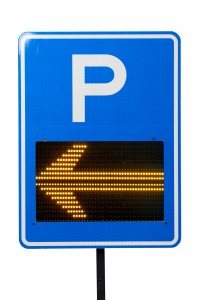 Circling for Parking
Research shows that 30 percent of city traffic is made up of people looking for a place to park. This causes congestion, traffic accidents and frustration among everyone involved—drivers, pedestrians, workers, commuters, law enforcement, even parking enforcement officers.
Lack of Timely Information
Parkers simply don't know where to go. Even when they're getting information from a sign on the road, a travel app, their GPS or their phone, they don't have real-time parking information. This results in futile attempts to park in a lot that is already full. Once the drivers realize it, it's already too late. They're frustrated, and now they're stuck in a queue that's blocking the lot entrance, jamming traffic along the road and endangering pedestrians all the while.
Safety Concerns
One out of every five motor vehicle accidents in the US occurs in a parking facility. That doesn't even include the nicks and dings that happen in parking garages or surface lots. Fourteen percent of all auto insurance claims involve collisions in a parking facility, and these numbers are increasing year over year as drivers become more aggressive.
No Room for Parking Expansion
When asked how to solve parking challenges, unfortunately, the first answer is usually, "We'll just add more parking spaces." Almost 99 percent of the time, however, additional parking isn't an option due to space and/or budget restrictions.
Greater Demand
Ten to 20 years ago, not much parking occurred on the weekends. When people left work to go home on Friday, they didn't come back to the city until Monday. After 7 p.m. in the retail districts, everyone went home; there were no parking issues. Today, that's all changed. People are living in urban communities, staying there all weekend. Many businesses have expanded operations to include weekends, evenings, and sometimes even 24-hour service. This often translates to 24/7 parking issues.
In addition to all these issues, parking managers have to sort through the clutter. With so much new technology out there, each claiming to be "the solution you've been looking for," it can be overwhelming for municipalities and parking facilities managers to know just what to do.
What if we told you it doesn't have to be so hard, or confusing? Did you know that technology exists today that is relatively easy to implement, can drastically improve parking efficiency and safety and can help you leverage data to make better decisions for your parking facility as time goes on?
**Excerpted from our whitepaper Solving Tough Parking Management Challenges Using Technology, Data AND IoT.
For more information on how to improve parking facilities management visit alltrafficsolutions.com or download the full version of our parking management white paper here.