Variable message signs are the workhorses of roadside messaging devices. But if you're sending someone to each sign every time you need to change the message or limit the use of your VMS for that reason or because it's cumbersome to transport and set up, read on. Portable, web-enabled variable message signs, such as the InstAlert 24 from All Traffic Solutions, are valuable to have on hand for a variety of reasons. This post examines the many benefits of web-enabled VMS to your agency.
Wh
y Web-enabled VMS Capabilities are Important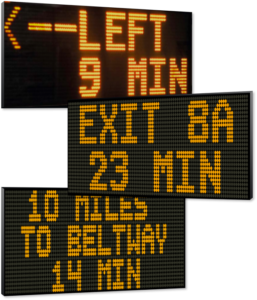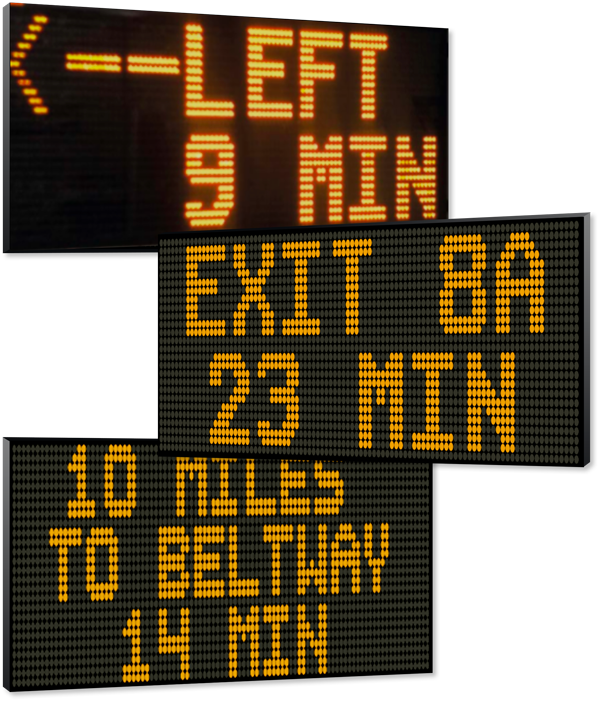 Cost.

If you have to deploy a resource every time you need to change a sign message, it's costing you money. First, you're tying up that resource and preventing them from performing their other duties.  Second, you're commandeering a vehicle that could be deployed elsewhere; and third, you're incurring fuel and vehicle maintenance costs.

Time.

Web-enabled VMS signs allow you to change messages remotely from any Internet-connected device, so you just need a browser and a computer, phone or tablet.  With the TraffiCloud™ traffic management system from All Traffic Solutions you simply log-in, select the sign or signs you want to change, type in the new message (or select from your pre-programmed list) and click a button. Your message is now changed on your sign(s) in real time.

Easy to program. You can set up multiple messages for different days and dayparts; for example, display "SPEED 20 MPH- SCHOOL ZONE-SLOW DOWN" during school hours on weekdays and share other information "VOTE HERE 11/6" at other times.
Easy to monitor your devices.

When connected to TraffiCloud, the InstAlert 24 can send you a text or email alert when batteries are low or dead, or when the unit is tampered with. It can even send you timestamped images which have helped some ATS customers to recover the sign and catch the perpetrator! If you're not sure where your unit is deployed you can locate the exact location using the GPS feature.


Multi-Purpose Conditional Messaging
Conditional messaging is when your signs display dynamic messages based on live inputs from sensors, devices or systems. For example, a temperature sensor on a bridge can send a message to TraffiCloud when the surface temperature dips below 32 degrees, which triggers a message to your sign to display BRIDGE ICY GO SLOW. Or your SpeedLane counter classifier sends a message to TraffiCloud when traffic volume on a road goes above a certain percentage, which triggers a message to your sign change to TRAFFIC ON RT. 6 TAKE ALT ROUTE.
Some other common examples of when you would use conditional messaging are:
Road conditions (SLICK ROAD-USE CAUTION)

Accidents and congestion (ACCIDENT AT RT 50-EXPECT DELAYS)

Time to destination (STATE HWY 10 MILES-12 MIN)

Road work (WORK ZONE AHEAD-SPEED LIMIT 35 MPH)

Weather (TORNADO WATCH UNTIL 8 PM)

Parking guidance (LOT FULL-PARK AT GRANT AVE)

Emergency alerts (AMBER ALERT-RED HONDA-TAG RPC367)


Where to Use Your ATS InstAlert Variable Message Signs
Local roads
Both the InstAlert 18 and the InstAlert 24 are full-matrix signs with multiple screens capability for text, graphics, chevrons or custom images. InstAlert 24 weighs just 43 lbs and folds to fit in your vehicle's trunk. It's the most portable MUTCD-compliant variable message sign available, making everyday portable use or permanent installation simpler than ever. InstAlert 24 is available with optional NTCIP compatibility.
At schools
It's often necessary to communicate with drivers and pedestrians in a specific area—for example at a school—whether it's to direct vehicles to available parking at a football game, to the admissions office or student orientation location, or to share important information such as early school closings. InstAlert 24 fits the bill.
Major roadways
InstAlert 48 and InstAlert 68 are large format message boards with superior visibility for high-speed roadways and areas with lots of truck traffic. Both are fully NTCIP-compatible for Intelligent Transportation Systems (ITS).
In construction and maintenance zones
Variable message signs are extremely useful to public works departments. In a work zone, instead of having a worker or flagger (qualified personnel who are equipped with handheld devices such as STOP/SLOW paddles, lights, or flags to control road users through work zones) standing behind your work crew, your InstAlert sign can display chevrons and a 3-screen message: "ROAD WORK. SPEED LIMIT 35 MPH. SLOW DOWN." to alert drivers as they approach the area. When the crew leaves for the day, the sign display can shut off or change messages.
If you would like more information on InstAlert variable message signs, TraffiCloud or any of our products, contact us now or request a quote.



Further reading:
InstAlert Variable Message Sign Brochure
InstAlert Variable Message Sign Technical Spec Sheet
InstAlert 48/InstAlert 68 Message Sign Technical Spec Sheet