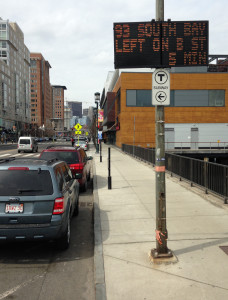 Turnkey Solution
A simple, optional extension to any of our signs already utilizing SmartApps

Hosted product platform that includes connectivity

Live in-flow traffic data updated as often as every minute with zero sensor infrastructure

No custom integration or IT support required for setup or maintenance
Internet connected computer with browser provides full access from anywhere
Route Flexibility
Point & Click routes configuration eliminates reliance on roadside sensor infrastructure and custom algorithms 

Easy to reconfigure

 as patterns change

Applicable to portable & emergency use
Routes and times are a Message Component or Logic Input
Display "Time to Destination" or Delay over route

 

Advanced message dependencies

Dynamically recommend alternate routes based on thresholds

High priority driver feedback – Interject custom "Slow Down" message when excessive speeds are detected.
Live Traffic Data Use Cases
Display live conditions in common areas such as garages and hotel lobbies

Route information across paths regardless of who is responsible for the roadway

Display time to next Service or Rest Area; time if more meaningful than distance

Recommend best exits or routes to specific destinations

 

Display short duration routes during emergency or temporary closures

Communicate conventional time to destination based on current conditions
Integrate DriveTimes with Smartapps and extend the value of its cloud-based traffic management solution. Our always-current user interface will keep you in contact with your equipment without any support from IT. (see below):
SmartApps Traffic Suite Apps:
Mapping: Manage your entire program through an intuitive visual interface.
Equipment Management: Stop wasting time driving to equipment to update and monitor it.
Alerts: Specify when and whom you'd like notified upon occurrence of certain conditions.
Reporting: Save time collecting, organizing, compiling and distributing information.
Imaging: Achieve greater awareness, including alarms or request generated images.
PremierCare: Get a perpetual warranty, damage insurance and remote diagnostics.